HOME MAINTENANCE
Gutter Cleaning | Gutter Protection | General Repairs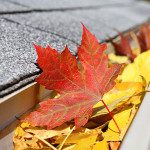 GUTTER CLEANING is the most important part of your home's maintenance plan. This service provides protection against rot, foundation sagging and critter infestation.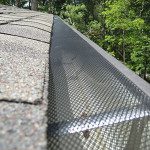 GUTTER PROTECTION Over the last ten years Higher Ground has developed a gutter protection system that is highly effective and yet less than 1/5th of the price of other big-name gutter guards.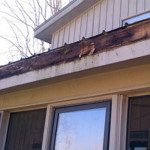 GENERAL REPAIRS can become costly if not caught soon enough. Your roof is the first line of defense against the destructive power of rain. Ask about our complementary 19 point roof inspection with every gutter cleaning.

GUTTER CLEANING
Maintaining your gutters should be the highest priority on your home's maintenance list. Gutters full of debris cause foundation settling, rot and pest infestation. This can all easily be avoided with a gutter cleaning from Higher Ground. In addition to being excellent gutter cleaners our technicians are also skilled at assessing leaks and drainage problems before they become big problems. The most common issues that we find which help people save big money on costly repairs down the line are: broken vent boots, loose chimney flashing, missing shingles, rodent holes and clogged drain lines.
Higher Ground gutter cleanings include: clearing the roof, gutters, and downspouts of debris as well as a complementary 19-point roof inspection. Once we complete the gutter cleaning we will blow off all of the  porches, decks, bushes, landscaping, driveway and window sills. During the winter and summer months we have 500 regular customers and counting. Join the Higher Ground family and experience our polished customer service, easy scheduling system and convenient payment process. Try us once and you will be hooked.
Using imaging from online sources we are able to get a fairly accurate perspective of the size and accessibility of your home. Call today to receive a free estimate right over the phone.

GUTTER PROTECTION
Over the last ten years Higher Ground has developed a gutter protection system that is highly effective and yet less than 1/5th of the price of other big-name gutter guards. The Higher Ground Gutter Protection System offers a offers a clog free guarantee when you sign up for our annual maintenance plan. This will ensure that your gutter guards always function properly 12 months a year. All guard installs include a complimentary gutter cleaning.
Unlike other companies that install protection systems, we are not a franchise or a large corporation. Higher Ground is a local company that takes pride in the products and services that we provide our clients. If any of our products are not functioning properly, we will service them promptly. The Higher Ground system works and we will stake our reputation on it.

GENERAL REPAIRS
It can be difficult to find a trustworthy company or individual to perform small, but necessary, repair jobs on your home. Most companies let your small job slip through the cracks leaving you underwater. Gutter and roofing systems should be kept in working order all of the time. They are the only defence your home has against the elements. When they fail they should be repaired as quickly as possible. Higher Ground will treat your small job with the respect and importance it deserves. We specialize in repairs for all roof types, asphalt shingles, metal, EPDM and TPO rubber, tile shingles, wood shingles and more. We know our guttering, k-style, half round, built in, custom box gutters and more. Let us help you with your repairs. Call today to set up an appointment for a free in home consultation and estimate.
WE SELL SOLUTIONS AND RESULTS WRAPPED IN POLISHED CUSTOMER SERVICE UNPARALLELED IN OUR INDUSTRY. WHEN IT COMES TO YOUR HOME MAINTENANCE AND RENOVATION BUDGET, WE KNOW HOW TO MAKE EVERY DROP COUNT.